Your website is more than just a collection of text and images. It's a sales platform that helps you to connect your business with your ideal audience. Is your website delivering the results you expect to your business right now? If not it's probably time for a WordPress Once Over, an online audit and 'website service' that does more than just tell you what you already know.
Poorly maintained websites only help to lose you customers
Regular care and maintenance of your website helps you to ensure that you stay relevant to your target audience and stand out in your market. When you don't look after your website or make regular updates you run the risk of losing potential customers to your competitors.
You've almost certainly heard the "if you build if, they will come" mantra before. It certainly has a place in history, but it does not transfer over well to the digital space. Unfortunately, if you build a website and carry out no marketing activities at all, you will struggle to have visibility in your marketplace. This means that your local or national competitors will happily continue to take the valuable customers that you're looking to bring to your business.
If you're constantly trying to 'fix' or 'prop up' the website without really knowing what you're doing it's taking valuable time and energy away from what you should be doing. Running your business.
Take advantage of the best sales platform that you have
Your website is the best sales platform that you have available to you in your business. Even if you're not selling products or services directly! As the main hub of your business, your website educates and informs your prospective customers, helping them to trust you. You can use many avenues for marketing your business, including trade shows, conferences, videos, farmer's markets, print advertising and more. Yet, all of these methods will lead back to your website at least once during the buying process.
As your best sales platform, your website needs to speak directly to your audience. You know the problems that they have and the solution that your products or services provide. Using conversational content is a great way of doing this, as it's written in a way that makes the reader feel like they're sat on the other side of your desk.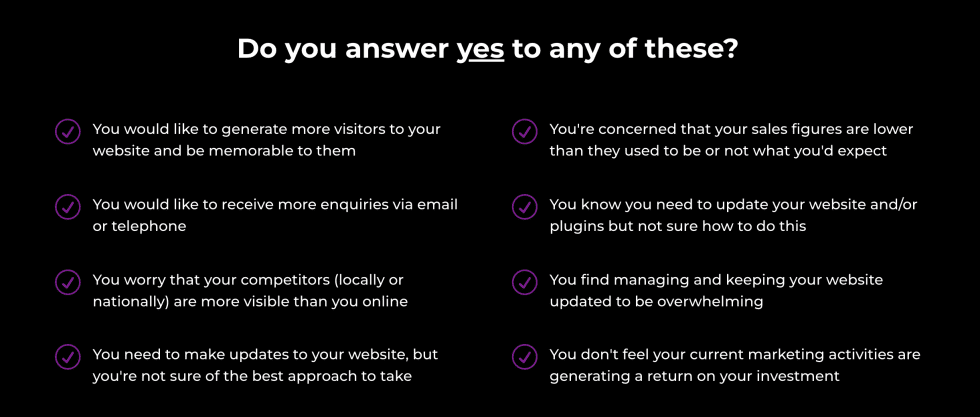 As your best sales platform, your website will typically have an organic level of growth from the perspective of the content that you add to it.
When you have new products or services to offer to the world, you'll add content to support this. When you have news or updates, you can share blog posts. Your website grows with your business. Therefore it's important that your website is visible and accessible to your target audience. So if you target professionals who have an interest in science and high levels of disposable income, you need to have your website and brand in front of those people. If you're not in front of them, where they use the Internet, you can't position your products or services effectively.
Our WordPress Once Over service helps you to identify problems with your website and fine tune your processes, keeping it working at an optimal level. We take a deep look at your website, the design, content, functionality, speed, security and more. Then, we'll actually fix it for you rather than just show you what the problems are!
Think of it like a health check for your website. An MOT and Full Service at the same time. You need to make sure that your website is healthy and in good order, so that it can be an effective selling tool for your business.
What's included in a WordPress Once Over?
We'll review the following areas of your website as part of the WordPress Once Over.
Web Design & Branding
Conversion Optimisation
SEO / Online Visibility
User Experience
Website Speed / Performance
Website Security
WordPress Review
PDF Report With Action Points
2 Hours Included Time
A WordPress Once Over looks at seven key areas of your website. The results are supplied as a PDF report with action points to let you know what needs resolving. Finally, we include 2 hours of our time to help you with carrying out the recommended action points.
Frequently asked questions
Why do I need a WordPress Once Over?
It's important to keep your website updated and suitable for your target audience. This means having a clear goal with the content that you're creating and ensuring that you clearly state your message to your visitors. Website security is also a major issue. If you're not looking after your website, this presents a large security risk to your business.
How long does a WordPress Once Over take?
Once we've received your order, we'll book your WordPress Once Over into the next available slot. This is usually the following week. From time to time this may be a little longer, as it will depend on our current work schedule. Once the WordPress Once Over is complete, we will send over our report and send over the details of the recommended next steps.
What if I don't have a WordPress site?
Unfortunately we only offer the WordPress Once Over on WordPress websites. If you currently have a website on a different platform and want to work with us, we'd love to discuss a website redesign with you. We're always happy to explain why we only work with WordPress.
How can I trust you?
We have over a decade of experience with WordPress, web design and marketing. We're well versed in carrying out audits on websites and ready to assist you. You can see some testimonials from previous clients on our website and we're more than happy to share some Case Studies with you.
Is there anything I can do for myself?
Yes! We're not suggesting anyone relinquish control of their site. We always want to coach our clients in how to use their sites properly. If you'd like our free downloadable guide on what you can be doing to evaluate your own site click here.
Is this the same as the Website Once Over offered by QUAFF before?
Yes! We had to turn away clients who didn't have a WordPress website and wanted to make things a bit clearer for everyone!
If you'd like to book a WordPress Once Over and get a real handle on your online direction, focus, and success then click here.