The steps you as a website owner can take to get as close as possible to the #1 spot.
Google runs the world. They have 86% of the search market globally and in second place is YouTube. Which is also owned by Google.
Getting onto the top spot of a search engine results page (SERP) is a big deal. The practise of Search Engine Optimisation (SEO) is manipulating your content and website to most closely align with two things;
What your users want or need
What Google defines as valuable & pertinent content from a trusted source or provider.
That may sound super simple but it's a full time job, not least because the Google algorithm changes, as do the wants and needs of most audiences.
This piece will attempt to lay out what it takes to hit the #1 spot on Google behind the scenes.
Without mentioning any tired tropes like icebergs…
SEO in general
SEO itself is a minefield of simple, repetitive tasks and complex evolving strategies to stay ahead of the competition as well as the algorithms of the search engines themselves.
It's knowing how to manipulate audiences for each social media platform with different types of content and, often, where not to be. For example, QUAFF barely does anything on Instagram or Twitter due to our engagement being much higher elsewhere.
To truly understand what it takes to hit that #1 spot let's go through some of the 'pillars' of SEO.
Before that we'll just clear up SERPs.
SERPS
Search engine results pages (or SERPS) are not as straightforward as they may seem. The results you are shown vary depending on a number of factors.
These include;
Your IP address – your IP (Internet Protocol) address is a unique number assigned to your computer or internet network. Imagine this as your ID badge as you zoom around the web.
Your location – if you have allowed browsers to access your location (for things like maps etc) then the results that are shown to you will be sorted by proximity as well as pertinence.
Your browser settings – your personal security settings as well as browsing preferences will impact on what results you are served. For example, if you're checking your own ranking position on Google by searching your own business you're likely to be shown as number 1. This is because Google has taken into account your location and IP address – making your business the most logical solution. In order to get a clearer picture of your ranking position try searching again using incognito mode – you'll notice the results may change. If not, congratulations!
It should be clear by now that all SERPs are created equal but some are more equal than others.
Keywords
Topping a google page for a search term or query that has nothing to do with your business should be an alarm bell.
If you're a solicitor in Colchester (a fictional example) and you're appearing in Google searches for 'Harry Potter' then a few things are going wrong. Firstly, have a very direct word with whoever is doing your SEO work. Secondly, fix it before it's noticed by Google and you receive a penalty for blackhat practises.
Thankfully, blackhat practises are becoming less common now. The term 'blackhat' in SEO covers a variety of practises that go against search engine guidelines. Keyword stuffing is one of these practises. It means cramming a page with irrelevant keywords that happen to have huge search volumes.
For example, 'Harry Potter' has 1.5 million searches a month. That's at least 1 search every 2 seconds.
That's 78 searches in the time it's taken you to read this far and 418 by the time you've read the rest of the article. Roughly.
The idea is that by littering a page with 'Harry Potter' some of that traffic will end up on your webpage, increasing your traffic. Unfortunately for the solicitors in Colchester those users are unlikely to want to be on their site and this traffic is completely useless. Or worse, it results in a Google penalty.
A Google penalty means you won't appear in google searches or will be actively hidden from your ideal audience. Yikes. These penalties can last from 30 days to months depending on your actions in the meantime.
Your best bet is to keep your nose clean.
Choosing what you want to rank for and deciding what rankings you want to fight for is really important. Having realistic expectations of who you can take the top spot from is also important. Going up against Facebook, Twitter, or Amazon? Good luck!
Having said that (flex alert) we have got clients above Amazon in the Google rankings before;
Choosing what Keywords or Keyword phrases you want to rank for can make all the difference to your results. The real secret to choosing your keywords is knowing what the audience is looking for and the language they're using.
If you know, for example, everyone in the public lighting industry is getting very excited about the removal of the old catenary lighting on the M1, and you want some traction with that industry, you may want to use some relevant keywords in your content.
The watchwords are always 'Relevance', and 'Value'.
Map Listing / Google My Business
If you're a bricks and mortar retail business it's essential. If you're not, it's still a very good idea.
Having your business listed on a map function of a search engine is good for a few reasons. The first one is the obvious one – so people can find you. Duh. The second one is to enable the search engine to provide directions to your door for users. The third one is less tangible – social proof. It may sound odd but a business happy to announce online where it is provides a basic, low level element of trust. It's important to decide if you want to include this if you're a service based business. QUAFF, for example, doesn't provide a street address – we work from home and don't want clients at our door!
GMB (Google My Business) is a brilliant tool for providing a snapshot of your business to a user as is the 'local pack'.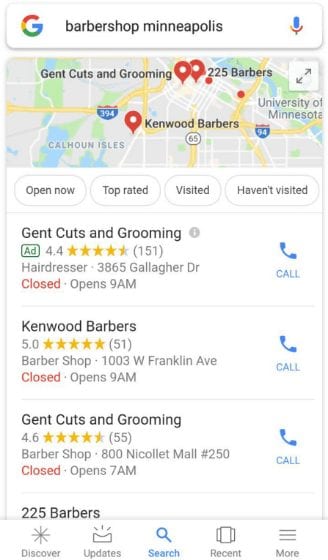 I'm sure you have seen these when you use Google yourself. You'll notice several elements that are beneficial to your business. Obviously being included at all will help to drive traffic. You have the opportunity to select what industry of specialism your business is in (in this case barbers & hairdressers), where you are, show some reviews for social proof and brand trust, your opening hours, and a method for the user to get in touch with you.
As the name suggests, these are based on location relative to the user as well as the quality of reviews and the website itself.
What's not to love?!
GMB is the in-depth version of the local pack without the competition, they look like this;
A properly filled out GMB provides everything a user might need to know about your business in one, easy to digest snapshot.
They provide photos and images that you can curate, your map location, and buttons for your website, directions, and the option to save the result to the user's profile. On top of this you get a quick look at your rating out of five and a link to the specific reviews that have been left for social proof.
Google will also analyse the data it collects to build a picture of how busy the location is in relation to the time of day of the search and comb through reviews for keywords listed by the business. In the case of The Pineapple Club you'll notice 'bottomless brunch', 'drinks', 'food', & 'customer service' have been highlighted in the reviews at the bottom of the GMB.
This is a great example of a well maintained GMB. It's important to note that this business has only been operating for 12 months and opened during lockdown – it's perfectly possible to build this sort of GMB profile within a few months.
It's also owned and run by a very good friend of ours who makes incredible drinks – I highly recommend you book a visit next time you're in Birmingham.
Content
The word 'Content' is searched 165,000 times a month, which goes to show that lots of people are just as confused by what makes the perfect 'content' as you are. The good news is that there is no 'secret recipe' and you can read all the 'Top 5 Tips' lists you like because most of them have value.
Consider Google to be the ultimate expert in all things and general arbiter of truth. In the first instance Google looks at your content, judges its worth, and will place you on its own list accordingly.
The criteria is simple;
Is it visible? Can Google see it & does it know what to ignore?
Is it valuable? Does it answer a pertinent question?
Is it clear? How easy is it to understand?
These three points should be at the heart of all your content. There's a reason for the influx of 'Top Tips' and 'How To' articles and videos – they're useful. More people search for them & watch them and, in turn, more people ask for them again. So more are made, published, consumed, and filled with comments asking 'what about X,Y,Z?'. Which leads to even more…which makes them more useful – you see how it works?
Google takes note of your content periodically via 'crawling' & 'indexing'. Every few weeks
Google's 'spider' will go through your whole website to assess it and judge whether Google needs to promote or demote you. This means that you shouldn't expect changes you make to have an immediate impact. Despite the widespread suspicion otherwise, Google is not omniscient.
These gaps provide plenty of opportunity for fine-tuning. Copy can be written, published, tweaked, scrapped, recovered, and overhauled until you're happy with it. Images can be resized and optimised with great alt descriptions. Video can be embedded. It's true that SEO takes time to show its true value but don't view this as a negative. It encourages the considered application of data driven strategy. And other good, solid sounding words.
But content is much more than the words and pictures you use.
Links
Backlinks are important to any successful SEO strategy if you're not already fairly established on the first few pages of a Google SERP or two.
'Backlink' pretty much does what it says on the tin. It is a link on an external, third party site that brings a user to your website. The better the 'domain authority' of the third party site in question, the higher the quality of the backlink.
A brilliant place to start for a new business is social media – because social media platforms like LinkedIn & Facebook have such massive memberships and are visited thousands of times per hour their domain authority is super strong. As you can build a business profile on these platforms they provide great backlink opportunities.
Domain authority goes from 1 to 99. Social media will always be in the high 90s.
A bad backlink can range from something as innocuous as a broken link all the way through to your site appearing on the darkest corners of the web. It's important to review your backlinks periodically to assess the quality of the sites they appear on and to double check everything is as it should be.
It goes without saying that loads of great backlinks put you higher up the Google ranking and bad backlinks work against you.
Speed
Site speed is probably the element of a website that features the most in client briefs. The most important thing to understand about speed is that it often comes down as much to you, the client, as it does to us, the builders.
No website designer will try to create a slow site. Every decision that is made has speed in mind. Whilst sometimes the option chosen could negatively affect the site speed, the reward for doing so will far outweigh the loss.
Google is very keen on a speedy site and use it as a key metric for the Google rankings algorithm. That means you, as clients, need to take care too. You should make sure to use the correct file types and keep an eye on the sizes of your images. It is a long, laborious process to go through every image on your website and ensure it's the right size and file type but the pay-off is absolutely worth it. Also, you'll only have to do it once.
JPEG files are considered the best for speed but may not look as good as other file types. We would always argue to find the best balance between image quality and file type, so PNG is often a recommended option. This is a classic example of making a decision you know is not the best one for outright speed but the payoff of crystal clear imagery is well worth it.
Size matters. Banner images, thumbnails, logos all have different spaces to fill & different jobs to do. They should be sized accordingly before uploading them. If you don't the website has to work harder and load more content for every click of a user. The more images your website has to squeeze, squish, or stretch before showing a page, the more unnecessary time is added to a website's load speed. Time added to the load speed has a direct impact on how many users leave your site.
Security
There are two elements of security to a site. Security for your website users, and security for your website admin.
A secure website for users is crucial to keep your visitors safe. The quickest way to tell if a website is secure it to look for the padlock at the far left of the URL bar;
If a website isn't secure for a user you'll see this sign in the same place, the far left of the URL bar;
This means that information put into the site is not encrypted and is, therefore, not secure. This includes the obvious things like names, email address and passwords, but also any payment information that is used on the website. If you have an eCommerce website or take any payments at all online it is unacceptable to not be secure. This should be remedied immediately.
Security for your admin means making it harder for hackers to access your site. There are many different types of hackers ranging from those who just want your website down, to the more insidious hackers that sit, unnoticed, and use your website for their own purposes.
One such method is to use your site for building backlinks to other websites (some of these may be highly inappropriate to your industry). They may have hundreds of websites they've gained access to without anyone knowing to use for backlink building.
The first tip for stopping this is to change your login email from 'admin@' and your password from 'admin' from the outset. Next, have more than one person with logins so you can better monitor the site. Third, install a good security plugin. Finally, have someone look after your site maintenance, upkeep, and security. For more information on this check out our website care plans.
Google will penalise websites that aren't secure, and will continue to do so until they are secure. It's a big roadblock to your Google ranking & climbing up that first page.
What was all that again?
That was a long one, wasn't it. Sorry about that. The problem is I've barely scratched the surface of what it takes to get to #1.
However, covering these bases will certainly give you a great push in the right direction and we'd be happy to go the rest of the way with you, as part of our Digital Partnership programme.
To condense this article into something you can, hopefully, remember and use, here are the simple take-aways to help you improve your Google ranking.
Keywords – have clarity on your strategy and pick your battles!
GMB – a well curated GMB can be an instant introduction to your business even if you have a lower domain authority.
Content – keep it visible, focused, valuable, & clear.
Backlinks – identify reputable, relevant sites and begin building quality backlinks.
Speed – you are responsible for keeping your image size and file type consistent.
Security – look after yourself and your audience.
Any questions? Get in touch.