We developed a stunning eCommerce website, doubling annual bookings and growing online sales
Dramatically increasing website click throughs from SERPs and GMB, we built a fresh, inviting website that showcases the beauty of flowers and is easy for customers to navigate. Ongoing website maintenance ensures seasonal promotions are successful and the website can handle busy periods.
UX, Design, Development, Maintenance
The Lily Pad is a high street florist, in Stroud, Gloucestershire. Since opening over 10 years ago, owner Gemma has arranged flowers for royalty and celebrities, and worked on weddings from Dorset to the Peak District. Gemma delights in putting her care and creativity in to every wedding, funeral and hand-tied bouquet, to allow her customers to express their love through flowers.
After facing many problems with her previous website and the tech setup, The Lily Pad needed not only a digital team who could design a stunning new website, but also who could provide peace of mind and rapid support when it was needed.
Gemma and the team wanted their new website to reflect the feel of the shop, her experience and passion for flowers, as well as provide a practical and easy to use eCommerce solution for the various services she provides. They also needed ongoing support to maintain the website, including designing and building seasonal product promotions.
Wedding bookings more than doubled; from averaging 26 per year to 58 in 12 months.
During discovery meetings, we discovered that showcasing the beauty of the flowers on the website was of huge importance to Gemma. We recommended new brand photographs were taken, showing the interior and exterior of the retail space, stylised shots of Gemma during the creative process of making arrangements and images of the flowers themselves.
It was clear The Lily Pad is a creative florist, selling hand tied arrangements, rather than the set bouquets many florists offer. We needed to consider how to deliver an eCommerce solution that allowed for this degree of creativity, while making the order process clear to users. We also had to consider that customers would need to choose their delivery date and delivery location.
The main source of traffic to the website would be through organic search. A set up that implemented local SEO to compliment their already successfully maintained Google My Business listing was a must. To ensure local SEO was successful, we researched key phrases that could be used across the main pages and undertook competitor analysis. We also explored different page hierarchy and navigation options.
These combined creative and technical aspects enabled us to build a beautiful, yet functional website that delivered on local SEO requirements.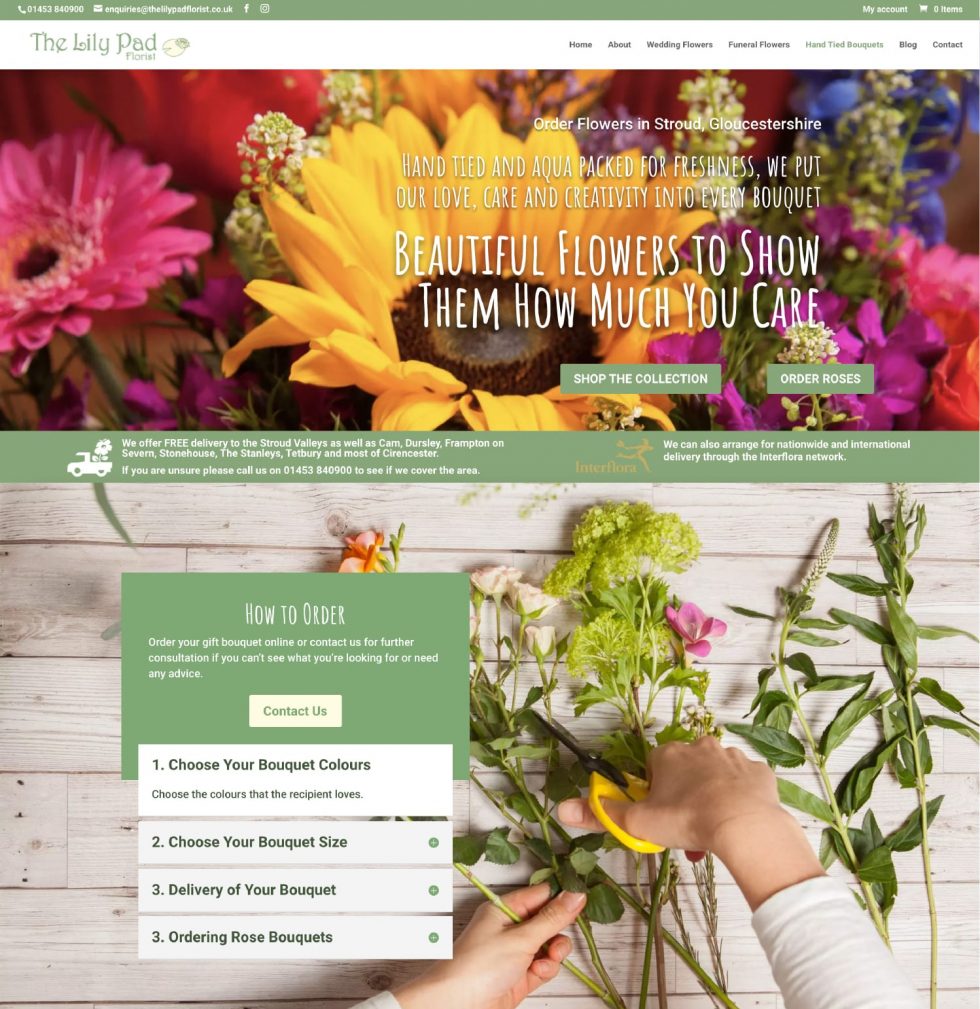 The Lily Pad Florist's branding uses a neutral palette; Gemma wanted a colourful and lively site, we decide to make the flowers themselves the focus. After being provided with stunning new images, we used full width images of the flowers and shop through out to provide an immersive experience for the user, bringing the look and feel of the retail space online. For users seeking wedding flowers, easily accessible galleries of previous work were added, alongside easy to find contact details.
We decided to use the WooCommerce eCommerce platform for the site. Custom fields during checkout were essential for The Lily Pad's requirements, and these were added and refined until the perfect process was created. Checkout also required complex delivery date selection, included cut-off times, limited delivery numbers and different checkout options based on location.
For this website design, ease of use was extremely important, as many of the users would be seeking funeral flowers and last minute gift bouquets. We tackled this by creating areas explaining the process, step-by-step, and developing a straightforward purchasing process.
Local SEO requirements were tackled though the use of keywords on service and product pages, and including key business information in a clear layout.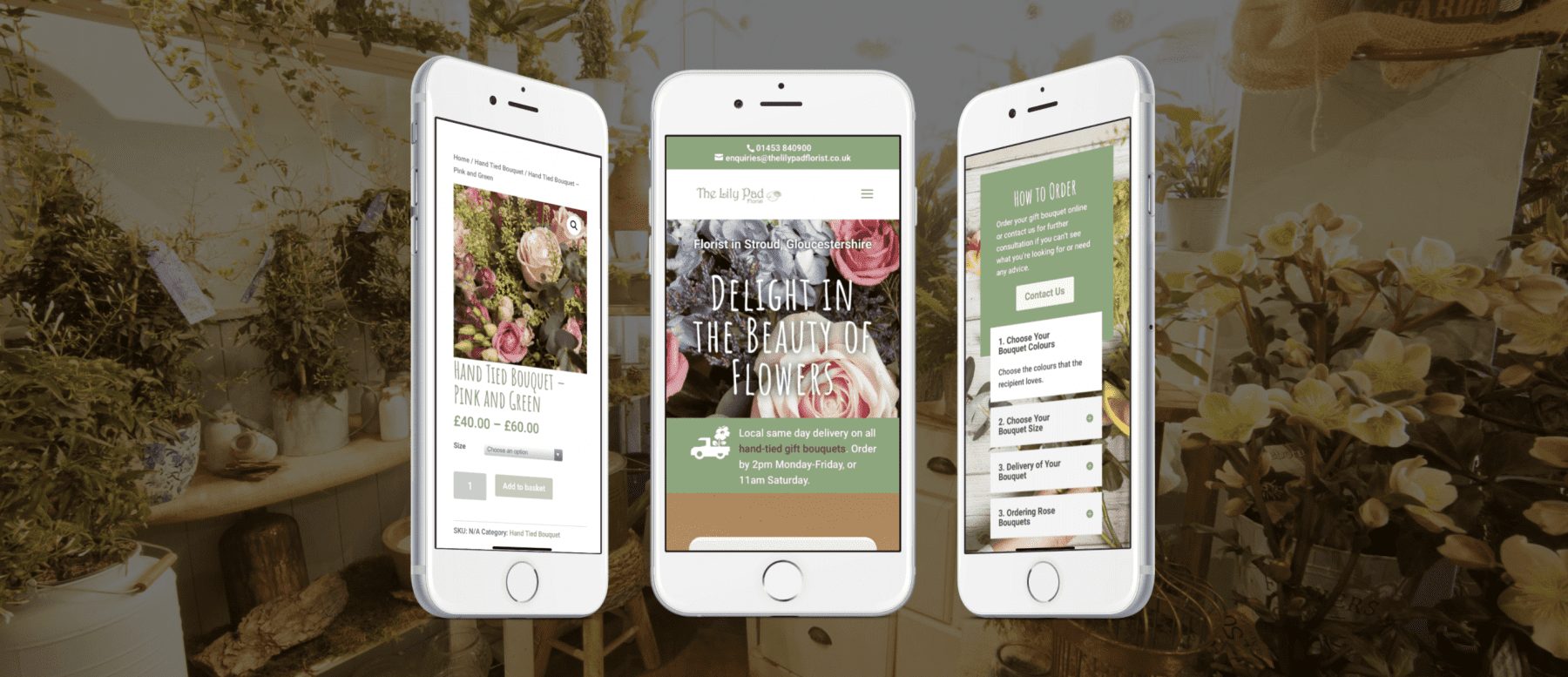 Ongoing website maintenance has ensured that the site has been kept up-to-date, and up-and-running. On the odd occasion that there has been an error on the site, we have been able to quickly respond to fix the issue as uptime is monitored 24/7.
Ongoing edits have been taken care of during monthly Tinker Time, and seasonal promotions are added across the site as required, to ensure that customers can easily find their Valentines bouquet or Christmas wreath.
During COVID lockdowns, we were able to add special messages for customers, take the shop 'offline' and edit pricing and shipping requirements as required.
"Kate has been an absolute dream from day 1. She brought creativity and ideas which exceeded my vision. She created a website completely in line with my style and brand.
Kate delved deep to really get a feel for what I wanted – she asked me questions that I didn't think I knew the answers too, but it was all for a reason and all aided the process!
My wedding bookings went up almost immediately after going live – I went from a 26 a year average bookings, to 58. I would say at least 2/3 of enquiries comment on my beautiful/impressive/inspiring website. My e-commerce is doing brilliantly, and has really carried us through the COVID lockdowns. Web sales alone are on track to hit £26k.
We call Kate our web unicorn – partly because she occasionally looks like one! And mostly because she is definitely magical. She usually thinks of things, such as upcoming dates and events before I have managed to, sorts everything before I've even finished messaging her about them, and keeps her cool and remains patient and friendly even when I make ridiculous mistakes and cause her stress!
I honestly cannot recommend Kate enough. There is no one else I would want to use and to be honest, I think you should too."
Owner of The Lily Pad Florist
Do you need help transforming your digital presence?