 We helped The ILP effectively communicate with their members via a simplified, user-friendly website
After rebuilding a streamlined version of the trade association's long-term website, we developed a busy online learning platform and provided weekly maintenance and regular course uploads, to keep new course sales flowing.
UX, Design, Development, Maintenance
The Institution of Lighting Professionals unites the skills of engineering, design and technology in order to deliver quality lighting for the built environment and achieve public benefit.
In setting and establishing standards for good practice, the Institution seeks to ensure that its members attain and develop the professional knowledge, education and skills to meet necessary competencies, and to enhance their careers.
The ILP's well-established website was ready for a rebuild, being non-mobile responsive and increasingly difficult to use. Our challenge was to migrate hundreds of pieces of content to the new site, ensuring nothing was missed, and reorganising the content to be more user-friendly. We also needed to incorporate an events calendar, eCommerce for publications and magazine.
Calls into head office reduced significantly as information is easily found online
To begin to understand what was required for the new website, several discovery meetings were held at the ILP offices with staff from different departments. This allowed all areas of the website to be discussed, making sure that all users would be catered for.
Turning what was a complex sitemap into a more simple structure was a major part of discovery and we achieved this by working together to decide which content could be dropped, combined or elevated.
The ILP already has a solid vision, with clear branding guidelines which allowed us to fully understand the design direction.
Following the main site launch, discovery for the course platform was carried out in much the same way. Discovery meetings with relevant stakeholders allowed us to settle on the most practical solution in what was required to be a fast delivery; COVID lockdowns had prevented in-person training courses being delivered and so the platform needed to be launched within weeks.
Clear communications and an understanding of what was achievable was key in making the launch a success.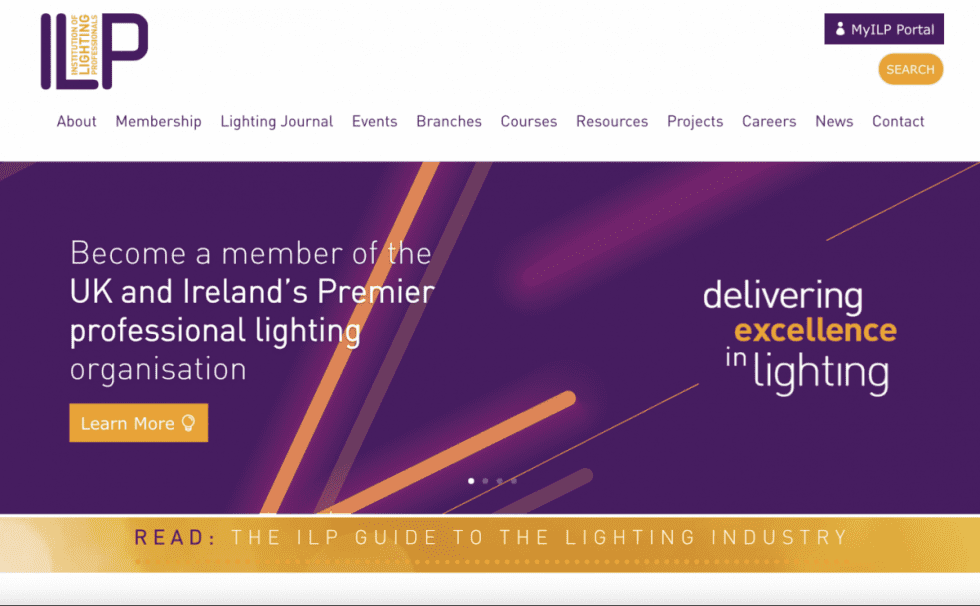 The ILP's strong brand identity includes some bold graphics, which we adapted and used throughout the site. The strong colours enabled us to design a clean but striking site, focusing on the theme of light, but without using cliched images.
For the functionalities required, we used premium options to ensure a solid solution that would perform to its best. WooCommerce was used for eCommerce, The Event's Calendar for event listings, with LearnDash fulfilling the course platforms requirements. This was built on a subdomain to allow for easier admin management.
Custom posts types were used where required and a streamlined and rebranded admin area was setup to allow ease of use for staff.
With heavy duty functionality in place, ongoing maintenance is essential for the ILP.
Alongside software updates, security and uptime monitoring, we also provide weekly 'Tinker Time', monthly page designs and regular course creation. Acting in this 'webmaster' role has allowed us to closely monitor the site, addressing any issues that have emerged quickly, often before they have even become apparent to users.
Clear communication and processes have allowed us to develop a strong ongoing relationship with staff, meaning we are in near daily contact.
"The ILP's previous website was no longer fit for purpose and as part of our digital transformation process, we appointed QUAFF to create a better designed and more functional solution.
QUAFF took the time to thoroughly understand the aims of the ILP and helped us identify the best way to manage our new website. After a comprehensive and well-structured preparation project, our new website launched just as the UK went into Lockdown One.
Although we were nervous about the timing, by then we had every confidence in QUAFF's expertise. With their expert skills, we now have a website to be proud of, where our customers can find what they need and make smooth online purchases and bookings.
The next phase of transformation saw us move our training courses online, using a bespoke platform created by QUAFF. We now have students learning about lighting from around the world.
The lighting community has relied on the ILP throughout the pandemic to provide education and support. Without our excellent website and courses platform, they would have struggled in their roles and wellbeing, and not seen the benefit of subscribing to the ILP.
Thanks to QUAFF, our membership numbers remain strong and the ILP is thriving in this digital age."
Engagement and Communications Manager, The ILP
Do you need help transforming your digital presence?